Compact video printer

High-resolution, 256-tone gray-scale printout in just 2.9 seconds

The VP-1200 is a compact gray-scale video printer offering amazing picture quality and performance. But that's not all. The VP-1200 is also light and economical, and it's easy to hook up

to your imaging system. And, best of all, it's so simple to use.

The VP-1200 --- the perfect output device for almost every display, including those used with ultrasounds, electron microscopes, test and measurement instruments, analysis equipments, and industrial and security monitoring systems.

Features

The VP-1200 can print an image in an amazing 2.9 seconds (NTSC).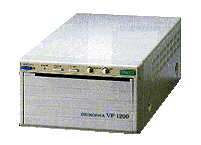 High-quality gray-scale printout
Ditherless 256 tones (8 bits) for incredibly detailed gray-scale performance. Just 154(W) x 97(H) x 290(D) mm, so it can fit almost anywhere you want. And you can carry it anywhere because it weighs just 3.2kg. Selects NTSC/PAL automatically A digital image processing circuit is provided for clear print quality. Compatible with high-contrast synthetic paper for high-contrast printing. Three kinds of gamma can be selected with this paper. Switching to the economy mode gives you up to 265 sheets of printout from a single paper roll. All you need to control the printer is right there on the front panel, including contrast/brightness adjustment dials, as well as the copy and paper feed keys. Signal input to a miniature jack permits remote printing.

Design and Specifications are subject to change without notice.

* Height includes the 7mm base.
Specifications
Recording method
Thermal recording method, line head type
Print density
Horizantal: 8.6 dots/mm
Vertical: 6.6 dots/mm (EIA/NTSC)
7.9 dots/mm (CCIR/PAL)
Print resolution
EIA/NTSC: 848 x 490dots (Normal)
896 x 508 dots (Wide)
CCIR/PAL: 848 x 582 dots (Normal)
896 x 608 dots (Wide)
Print area
Normal: 98 x 74 mm
Wide: 104 x 77 mm
Print time
EIA/NTSC: 2.9 sec./screen (Normal)
CCIR/PAL: 3.5 sec./screen (Normal)
(Excluding thermal head access and paper margin)
Gray scale
256 tones (VP-15052H/VP-15052S)
Input signal type
Composite video signal (EIA/CCIR/NTSC/PAL)
Scanning method
2:1 ratio interfaced
Input signal level
Video: 0.8 - 1.2Vp-p (75 ON)
Sync: 15to 35% of input video signal level
Specifications

Connectors

Video input connector: BNC
Video output connector: BNC
Remote signal: Miniature 3.5 stereo type
Operation temp.
5 - 40°C
Power supply
AC 100 - 120 V ± 10%, 50/60 Hz ± 5%
AC 220 - 240 V ± 10%, 50/60 Hz ± 5%
Dimensions
154 (W) x 97(H*) x 290 (D) mm (Excluding connectors)
Weight
3.2 kg (Excluding recording paper)
Options
CBL-A
BNC-BNC cable (2m)
CBL-AS
BNC-BNC cable (1.5m)
CBL-E
BNC-RCA branched cable
CN-T
T-branch connector
Consumables (thermal roll paper)
#VP-15052H
High-contrast synthetic 110mm x 21m 5 rolls/carton
#VP-15052S
Synthetic paper 110mm x 21m 5 rolls/carton
#VP-15052N
Normal paper 10mm x 25m 5 rolls/carton

(For two-tone printing)