Forget about the running out of recording space. With the built in 160GB HDD (Hard Disk Drive), you may record up to 198 hours (SLP modes) of quality video programs on it.
The coexistence of the optical disc drive and the built-in HDD on LVW-5045 doesn't stay for nothing! With it, you can record the camcorder footages onto the built-in HDD all at once. In there, you can utilize all the editing functions to the titles and then save them onto discs respectively to share them with family or friends.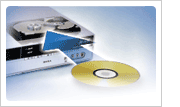 The contents on any types of disc by copying them to the built-in HDD, where all the editing functions can be utilized. This not only solves the problem that certain editing functions are only applicable to certain disc typesbut also is convient given the huge storage space of the HDD.
Advance feature such as "Time Shift", is also featured on LVW-5045. The "Time Shift" feature allows you to virtually "Freeze" the live TV program while you are temporary interrupted and "Un-Freeze" it to continue viewing the live program.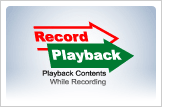 With LVW-5045, you can watch the recording program from the very beginning while it is still being recorded, regardless of how far along that recording is in progress.Simply press a key and you no longer need to wait until the recording is completed.Recording will not be interrupted and viewing can be performed any time you desire!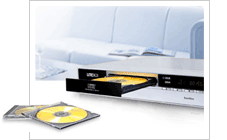 Introducing the world 1st "AllWrite" DVD Recorder from LITEON IT. With the innovative "Allwrite" technology, a DVD recorder with capability to record on DVD+R/RW, DVD-R/RW or CD-R/RW discs become reality.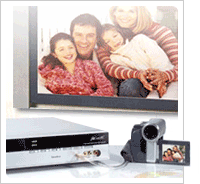 Another key differentiator is the DV-Link (IEEE1394) port, which allows you to connect LVW-5045 to a DV Camcorder. By connecting the Camcorder directly to the LVW-5045, users can preserve high-quality digital images on a permanent basis. So you won't miss any of those treasured moments in your digital life. An added benefit is that you may even manage your DV connection by using the remot e control.
The innovative user friendly interface - "EasyGuider 2", has simplified the DVD recording procedure. You can now instantly access all the major functions available on the recorder without going through the complex procedure. DVD recording has never been so easy!

The LVW-5045 can also playback the ever popular MP3 and WMA music files.