24-pin heavy duty dot matrix printer
Business Leadership Starts with the BP-7800 II
Leadership in business demands certain qualities - proficiency, alacrity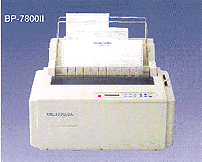 and absolute professionalism. Such are the characteristics that Seikosha's BP-7800 II has to offer with its superlative range of advanced features: highspeed 780 cps (15 cpi in Super Speed Draft mode), 1+8 multipart forms capability, 10 resident LQ fonts, 13 bar codes, new movable printhead, and 60-Kbyte print buffer. The BP-7800 II is also equipped with a Zoom function which quickly and easily reduces (down to 66%) or enlarges (up to 1600%) the size of the printed characters. Most importantly, however, technical excellence is balanced by operating ease thanks to the innovative 2-level menu system with 16-digit LCD panel. For any and all business needs, Seikosha's BP-7800 II the printer that means business.
Superb technology for superb results
How your documents look may be the most important factor in determining business success. And the BP-7800 II assures you of professional results every time thanks to its new movable printhead which delivers superb quality and speed whether printing in Draft (520 cps) or LQ (158 cps). Add to this the large long-life ribbon cassette, and you've got top-flight printing performance in any demanding application.
Bar code printing
Bar codes are finding their way into virtually every aspect of modern life - from inventory control to VCR programming - improving speed, accuracy and efficiency. In addition to the 10 resident LQ fonts the BP-7800 II can print all major types of bar code: Industrial 2 of 5, Matrix 2 of 5, Interleaved 2 of 5, Code 3 of 9 , Code 93, Codabar, UPC-A, UPC-E, Code 128, Code 11, EAN-13,.EAN-8 and Postnet.
Extra operating ease, less work hours
Operating ease is yours to enjoy thanks to the innovative 2-level menu system (no DIP switches) which displays selections on a 16-digit LCD panel (selections on the panel can also be reversed to enable viewing from either the front or back of the printer). This sytem even stores 3 complete configurations for instant recall and provides detailed error messages.
AVD Computer Services Ltd
PO Box 5142, Reading RG7 1ZQ
Tel: +44 118 988 7300
Fax: +44 118 988 7301
Print technology
24-pin dot matrix printer
Print direction
bidirectional (text & graphics)
Print speed
15 cpi
12 cpi
10 cpi
10 cpi

780 cps Super speed draft
624 cps Speed draft
520 cps Draft Pica
158 cps NLQ Pica

Througput
170 lines/minute (Draft, Pica)
Line feed speed
Line feed pitch
60 lines/second (10"/second)
1/360"
Emulations
EPSON® LQ-2550, IBM® 2391 , HP Rugged Writer
Print buffer
60 KB
Resident fonts
S. Roman, SH, Courier, Prestige, Gothic, Script, Orator, Orator-S, OCR-A, and OCR-B
Bar codes
Industrial 2 of 5, Matrix 2 of 5, Interleaved 2 of 5, Code 3 of 9, Code 93, Codabar, UPC-A, UPC-E, Code 128, Code 11, EAN-13, EAN-8 and Postnet.
Zoom function
66 - 1600 %
Character sets
Download characters
ASCII, IBM® I +II, Italic - and graphic character set Epson®:
128 Download characters, IBM®: 32KB
Attributes
Italic, condensed, bold, double-strike, double-width, superscript, subscript, overscore, underscore
Paper feed standard
optional
push tractor or friction
fully autom. cut-sheet-feeder (1. + 2. bin), pull tractor
Paper path
Rear (fanfold), top (cut sheet)
Paper weight
53 to 100 g / mì
Paper width
5" to 16" (fanfold & cut sheet)
Multipart forms
Original plus 8 duplicates
Interface standard
optional
Centronics parallel and RS-232 C
IBM® COAX- and TWINAX, RS-422 A
Ribbon type life
ribbon SBP-1051 (same as for SBP-10) 20 million characters
Printhead life
500 million dots/pin
Optional accessories
Fully autom. cut-sheet-feeder (1. + 2. bin), RS-422A interface, Pull tractor
Power supply
AC 220 - 240 V, 50/60Hz
Power consumption
self-test
standby

200 watts
55 watts
Dimensions
(W x H x D)
620 x 295 x 305 mm
Weight
20 kg (44.1 lbs)
IBM® is a registered trademark of International Business Machines Corporation. Epson® is a registered trademark of S. Epson Corporation. These specifcations are subject to change without notice.
Back to the Top