The office workhorse
With the Seikosha flat bed printer you have the ideal worker for the tough demands of everyday life in the office. Robust and extremely resilient, it will perform all the jobs required with a high throughput, 24 hours a day, if this is what you wish.
The SEIKOSHA FB-375 on the job
Heavy sheets of notepaper, envelopes, postcards or labels, with its friction roller and flat bed push tractor the Seikosha FB-375 handles even thicker types of paper and with the 13 resident fonts your printouts will make a good impression anywhere.
Speed
The Seikosha FB-375 has very fast reactions, mastering a capacity of 375 characters per second (high -speed draft at 15 cpi). That should be sufficient to vastly accelerate your work routines.
Multipart sets
Multipart sets with an average of five duplicates present no problem. The distance of the print head is automatically optimised, saving the time and effort of making a manual setting. The throughput can be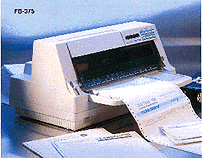 adjusted to the three levels and guarantees legible multipart sets.
Bar codes
The Seikosha FB-375 can print nine internationally accepted bar codes: Industrial 2 of 5, codabar, code 128, code 39, EAN-8, EAN-13, UPC-A and UPC-E. This means that all warehousing and freight documents can be labelled comprehensibly and free of errors.
Ease of operation
Clearly arranged operation panel
16-character LCD display
Display in four languages on option (D, UK, F, E)
Quiet mode to reduce printing noise
Versatile interfacing possibilities
The standard Seikosha FB-375 comes equipped with a bi-directional parallel interface which can easily be enhanced by adding a serial interface such as RS-232C, Coax, Twinax, Token Ring or Ethernet (the printer automatically switches from one interface to the other).
Useful accessories for the SEIKOSHA FB-375
Interface
Further interfaces as RS-232C, Coax, Twinax, Token Ring, Ethernet are optionally available.
Cut sheet feeder
Single cut sheet hand insert or auto sheet feeder.
In practice a wide range of forms need to be printed every day, as quickly as possible, and with a minimum of manual intervention and acoustics. Apart from the advanced paper handling a high print quality, scalable fonts, bar codes, etc, are features which are important in today's business. the new Seikosha FB-375 is a flat bed printer which is absolutely ideal for all these requirements.
Quick results in letter-quality
Its 24-pin print head ensures clear characters and attractive graphic display with a resolution of 360 x 360 dpi. And it produces rapid printouts. At maximum speed, it can print up to 375 characters per second in draft quality, and it can print up to 125 characters per second (cps) in letter quality.
A wide selection of fonts and bar codes
The fonts Courier, Gothic, Bold PS, Prestige, Script, Orator, Orator-S, OCR-A and OCR-B are available in fixed point sizes for the letter quality mode, and Roman, Roman, Roman T, Sans-Serif and Sans-Serif H are available as scalable (8-40 point) fonts. In addition, the printer has nine common bar codes.
Easy and versatile media handling
The Seikosha FB-375 also demonstrates its versatility when handling paper. Yhe push tractor feeds the paper into the rear of the printer, and is suitable for all common continuous papers and form sets. It operates with an automatic paper park function, so that the continuous paper does not have to be removed from the printer if the user wishes to print an occasional single sheet. Single sheets of various formats up to a maximum width of 304 mm can be fed manually into the front of the printer and it alternatively paths the printer at the front or rear side.
Automatic head gap adjustment
Irrespective of whether formulars, bank transfers, cheque forms, etc., or envelopes, labels or even postcards have to be printed, the printer can accurately handle all formats and even unflexible materials. This is achieved by the straight paper path (flatbed principle). Optimum print quality is also ensured by the automatic facility for measuring the paper thickness and adjusting the distance between the print head and the print medium. This solution ensures that the fifth copy of a set of forms slso features good print quality without any setting having to be made on the printer.
Compatibility to common software and hardware
The FB-375 is compatible with common software and hardware. It features the emulations IBM® PPDS and EPSON® LQ870, and is equipped as standard with a bidirectional parallel interface. An interface for RS_232 C is optionally available. The printer is capable of automatically switching the interfaces.
AVD Computer Services Ltd
PO Box 5142
Reading RG7 1ZQ
Tel +44 118 988 7300 Fax +44 118 988 7301
Print technology
24-pin dot matrix flatbed printer
Print direction
bidirectional and unidirectional (auto switching)
Print speed
15 cpi
12 cpi
10 cpi
10 cpi


375 cps High speed draft
300 cps Draft Elite
250 cps Draft Pica
83 cps LQ Pica
Throughput
137 lines / minute (Draft, Pica)
Paper feed speed
5 ips
Emulations
EPSON® LQ-870, IBM® PPDS
Print buffer
64 KB
Resident LQ fonts fixed size
scalable (8-40 point)
Courier, Gothic, Bold PS, Prestige,Script, Orator, Orator-S, OCR-A, OCR-B
Roman, Roman T, Sans Serif, Sans Serif H
Code pages (Europe)
437, 850, 860, 863, 851, 852, 853, 855, 857, 866, 869, USSR Gost, Arabic, 437 Greek
Bar codes
Industrial 2 of 5, Interleaved 2 of 5, Code 39, NW-7 (Codabar),UPC-A, UPC-E, Code 128, EAN-13, EAN-8
Media types
fanfold, cut sheet, labels, envelopes
Paper feed
fanfold: rear (tractor) single sheet: front (friction)
Paper path
fanfold: rear (tractor) single sheet: front or rear
Paper weight
45 - 90 g / mì
Paper thickness
multi-ply fanfold: max. 0.51 mm single sheet: max. 0.12 mm max. paper path: 2 mm
Paper width
70 - 304,8 mm (2.76 - 12 inch)
Multipart forms
original plus 5 duplicates
Interface standard optional
bi-directional parallel (IEEE P 1284) RS - 232 C
Ribbon type life
black nylon ribbon cartridge > 3.5 million characters
Printhead life
> 200 million dots / pin
Optional accessories
RS- 232 C serial interface
Power supply
AC 220 - 240 V, 50 Hz
Power consumption
50 W self-test, 18 W stand-by
Acoustics
58 dBA (normal mode), 54 dBA (quiet mode)
Dimensions (W x H xD)
474 x 245 x 297 mm
Weight
11 kg (24.2 lbs)
IBM® is a registered trademark of International Business Machines Corporation. EPSON® is registered trademark of SEIKO-EPSON Corporation. These Specifications are subject to change without notice.